The Israel Economic and Cultural Office in Taipei (ISECO)'s series exhibition 'The Israeli Discoveries & Developments that influenced the World' landed at Providence University, Taichung on April 29th, 2021. Mr Omer Caspi, Representative of Israel Economic and Cultural Office in Taipei, launched the opening ceremony with a presentation that detailed Israel's journey from a country without any natural resources to its globally recognised status as a start-up nation.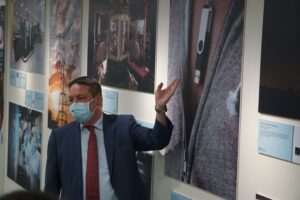 The exhibition features photographs of Israel's breakthroughs in the development of medicine, science, technology, agriculture, environment and history, and situates Israel within the historical trajectory of technological development. Mr Caspi further introduced several famous Israeli discoveries and technologies that have established the country's reputation as a global technology hub, including dripping irrigation, the USB flash drive, voice-over internet protocol and a robotic exoskeleton. Later, he elaborated the combination of internal factors – government initiatives, academic institutions and technology companies – that have all played crucially important roles in fostering Israel's unique ecosystem of innovation.
Prior to the opening ceremony, Mr Omer Caspi and Mrs Galit Caspi, Ms Revital Shpangental, Founder and CEO of Anemone Ventures and Professor at Providence University, Dr Chuan Yi Tang, President of Providence University and several faculty directors of Providence University discussed ongoing paths of academic collaboration. The exhibition represents promising opportunities for further bilateral cultural and academic exchange.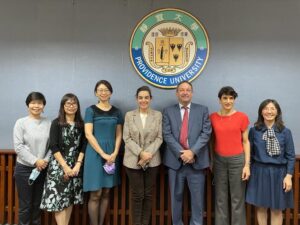 The exhibition will be on display at Providence University, Taichung 10F library until May 12th 2021.